Gold-Standard.com
The Only Prep You NeedTM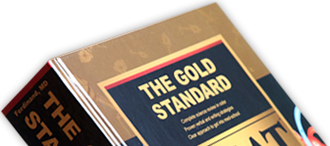 Gold Standard Multimedia Education is offering a great affiliate program for any website owners that want to generate extra revenue for themselves by advertising great test prep materials. Our program comes with exceptional commissions and expert service to help affiliates maximize their potential.
An affiliate marketing program is designed to incentivize website owners and other internet companies (you) to promote the goods of a merchant (us) by paying a commission for any sales generated by your website. If a customer makes a purchase of a good by clicking on the advertisement on your website, you get a portion of the sale just by showing the ad!
The benefits to this program are simple: you get paid just by placing an advertisement on your webpage. The system tracks the customer's path to making the final purchase of the product and determines the commission for the owner of the affiliated webpage. In essence, you can make extra money without having to do any extra work.
Here are the main points about our program:
10% commissions on all products sold
60 day cookies which track how the customer was directed from your ad to making the final purchase
Custom ads and graphic available by request from our team.
Getting started with the program will only take you minutes. To sign up, you can click here to fill out the online form and see our full Affiliate Agreement. Once you have signed up, you may choose which products you want to sell and which advertisements work best for your website.
We are available at anytime for questions at garvin.ferdinand@gold-standard.com. We can help with any systems issues, questions, comments, or specific requests regarding the program.